Free Shipping Over $75

Hassle Free Returns

24 Months Warranty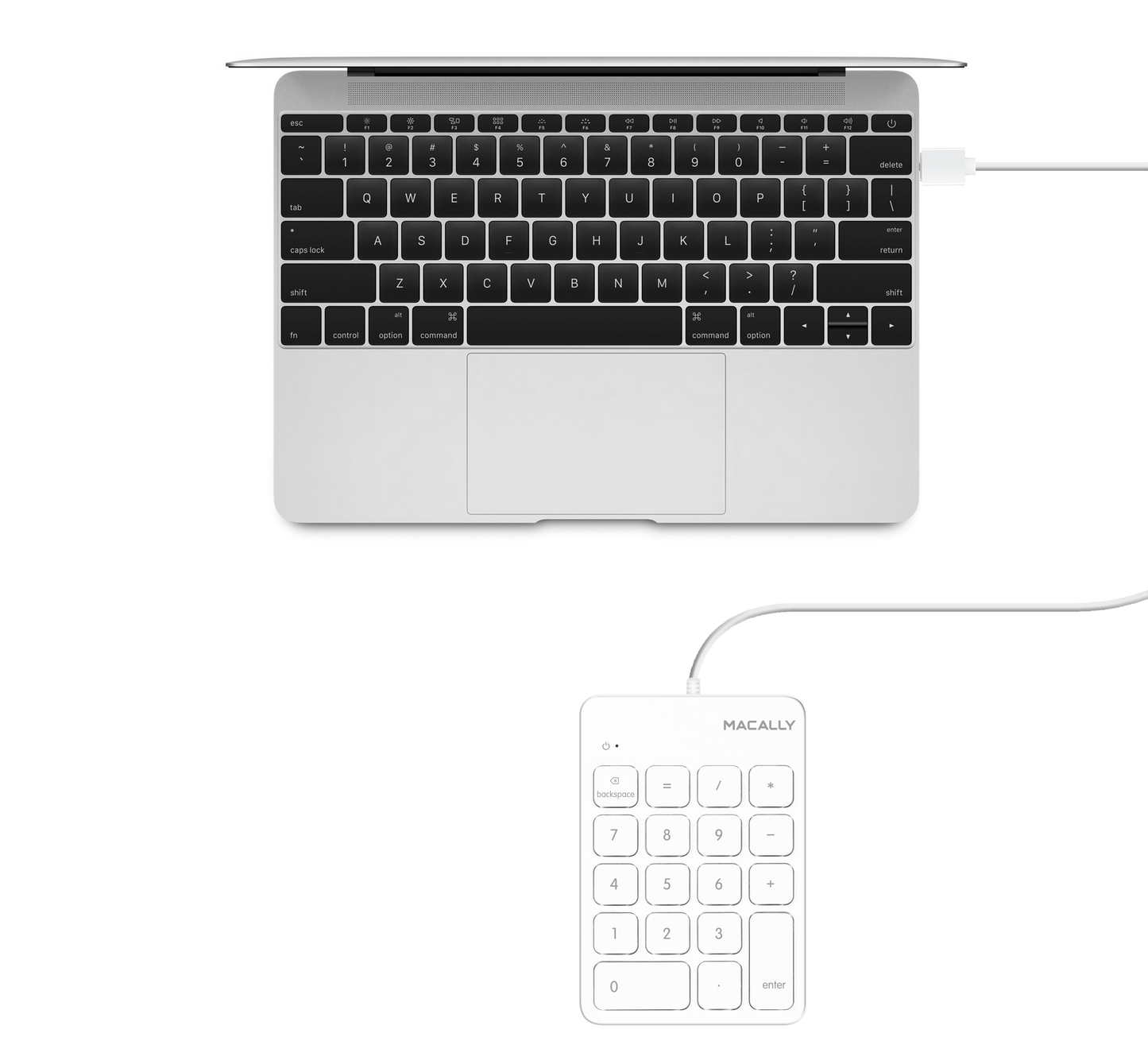 Plug and Play
Simply plug the USB keypad into a USB port and begin crunching numbers instantly. No drivers or extra software required. Compatible with any computer with a USB Port (Mac OS X v10 6 or later Windows 7/8/10/XP/Vista).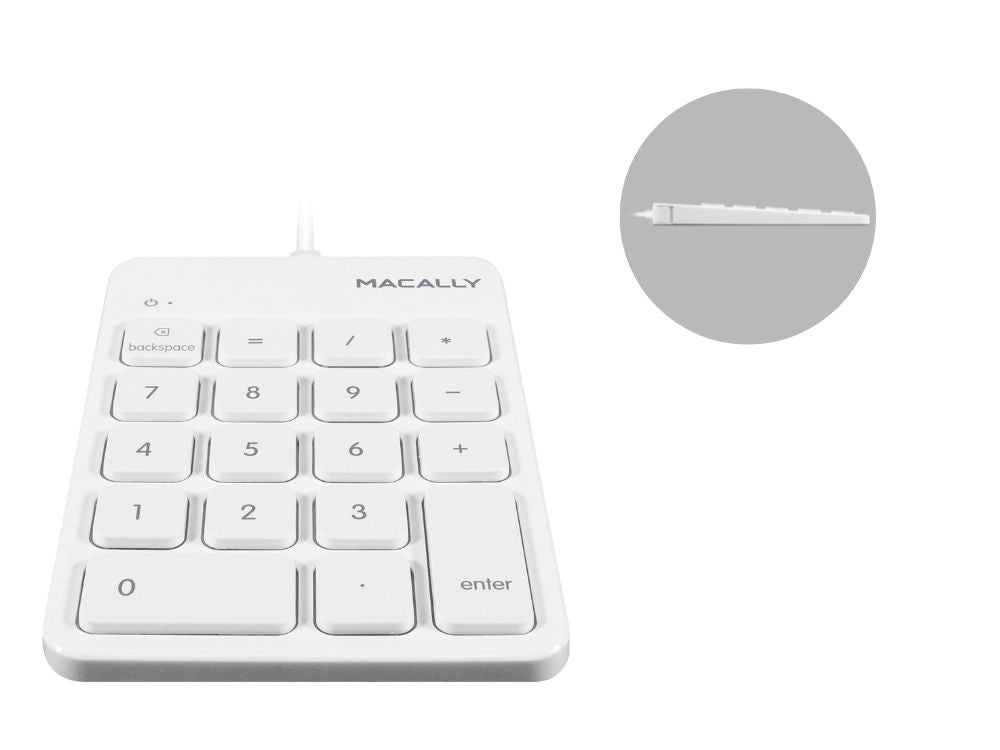 SLIM & COMPACT
The ultra-slim 10 key number keyboard is sleek and compact. It is travel friendly with a convenient cable bracket that allows you to wrap up the 5ft cable easily for storage in your purse, bag, or satchel.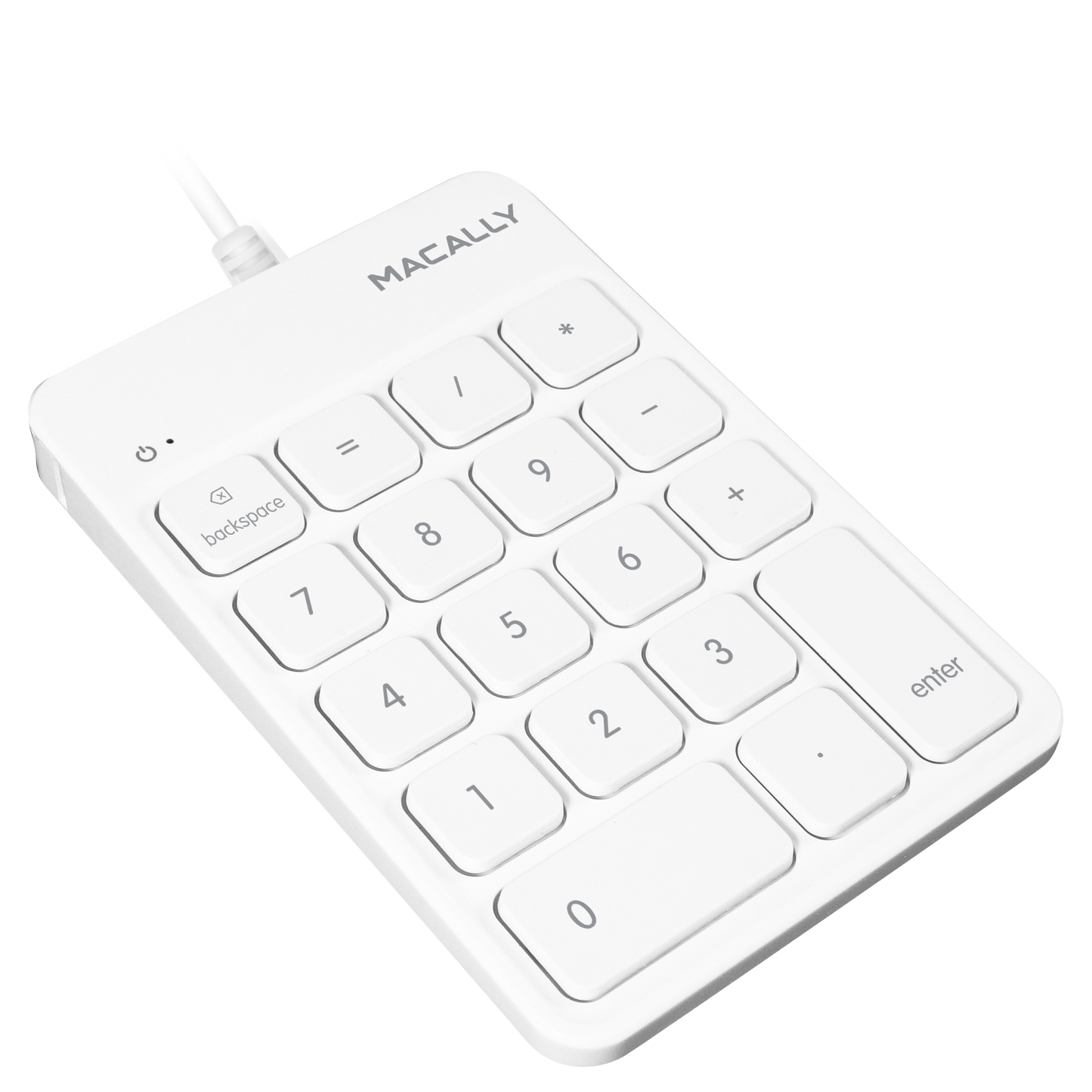 COMFORTABLE TO USE
With 18 full-size keys (enhanced with scissor switches and quiet keycaps) the number keypad for laptop is easy and comfortable to use. It is the PERFECT ADD ON accessory for those who use laptops.
Frequently Asked Questions
SYSTEM REQUIREMENT

- USB A Port
- Mac OS X v 0 6 or later
- Windows 11/10 etc
SPECS

- Color Ice White Finish
- Total Keys 18 Keys (Clear Equals Divide Multiply Subtract Add Enter Decimal and numbers 0-9)
- Dimensions: 4.9" (H) x 3.3" (W) x 0.47" (L)
- Weight 83 grams
- USB Cable Length 5ft
- Design Slightly titled and sloped for relaxing hand placement.
FREQUENTLY ASKED QUESTIONS

I plugged the usb for my keypad in to my computer , it loaded & the only thing that works is clear & enter. None of the numbers work! What do I do?
Are you on a Windows PC?

If so, you may need to enable NUM LOCK by utilizing the On-Screen Keyboard located in the "Ease of access" programs folder.

To open the On-Screen Keyboard click on the Start button, click All Programs, click Accessories, click Ease of Access, and then click the On-Screen Keyboard program.

By default the on-screen keyboard will show up without a number pad. To display the keypad, click options and check the "Turn on numeric key pad" option then click ok.
You should now be able to click on the NumLock option and begin using the Macally Numeric Keypad.

You can close the on-screen keyboard once NumLock is enabled.

Note: If you are having trouble locating the Ease of Access programs folder, you can also type and search for "On-Screen Keyboard" from the windows start menu if needed.

I plugged it into my mac adapter that has a usb slot and the keyboard does not work. any ideas?
You might need to purchase a numeric pad specifically for USB C that will plug directly into your newer computer. I found Macally Wired USB C Numeric Keypad Keyboard for Type C Laptop, Apple Mac iMac MacBook Pro/Air, Windows PC, or Desktop Computer with 5 Foot Cable & 22 Key Slim Number Pad Numerical Numpad - Silver on Amazon. I just ordered it and haven't been able to use it yet, but I am hoping it will work on the newer macs that do not have the old USB.

Does this have to be connected directly to a usb port on the mac or can it work off a usb hub?
Connected to Mac.