Free Shipping Over $75
Hassle Free Returns

24 Months Warranty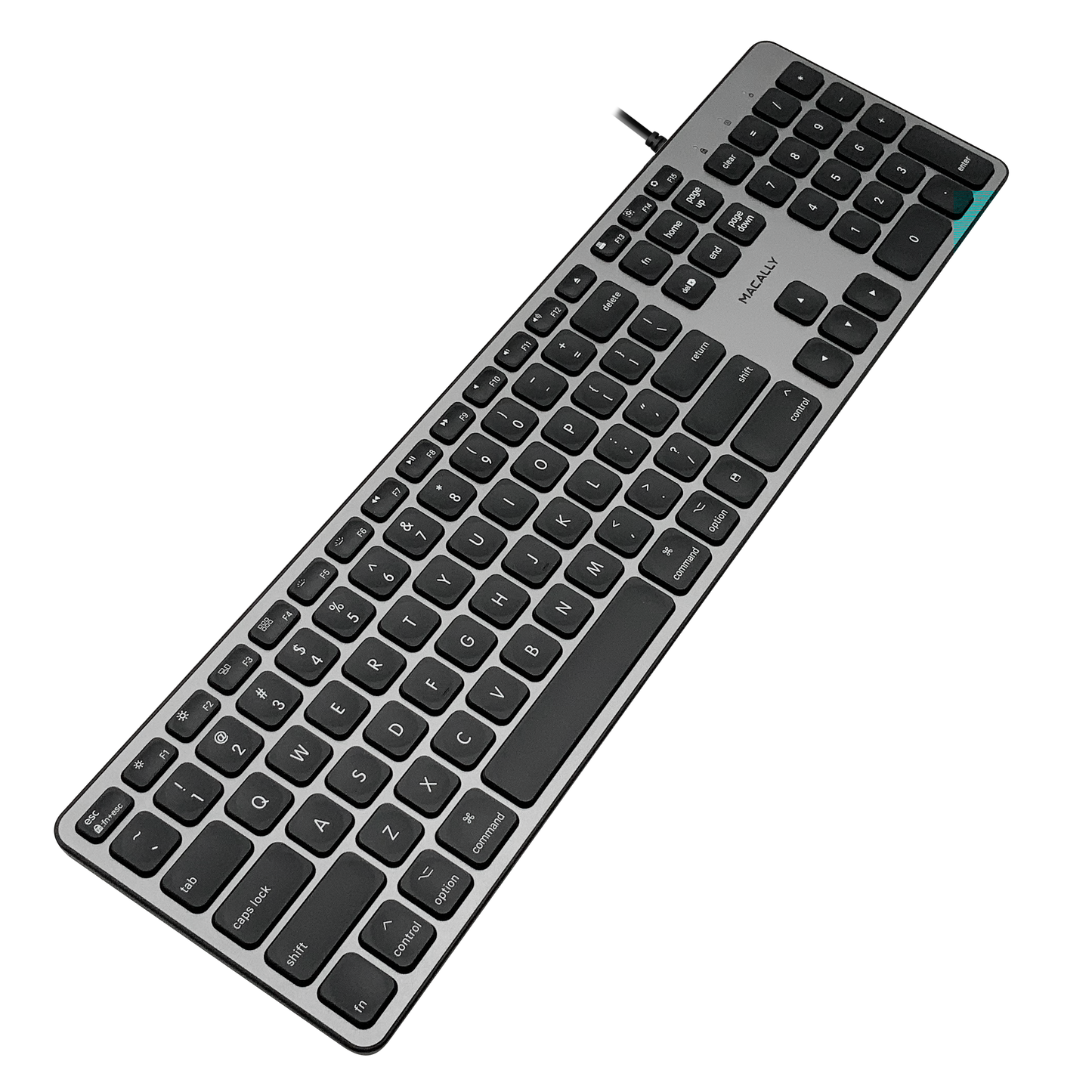 Enhance Productivity and Aesthetics
Improve your workflow with a mac wired keyboard that will look great with all your space gray apple accessories. Perfect for a clean minimalistic setup.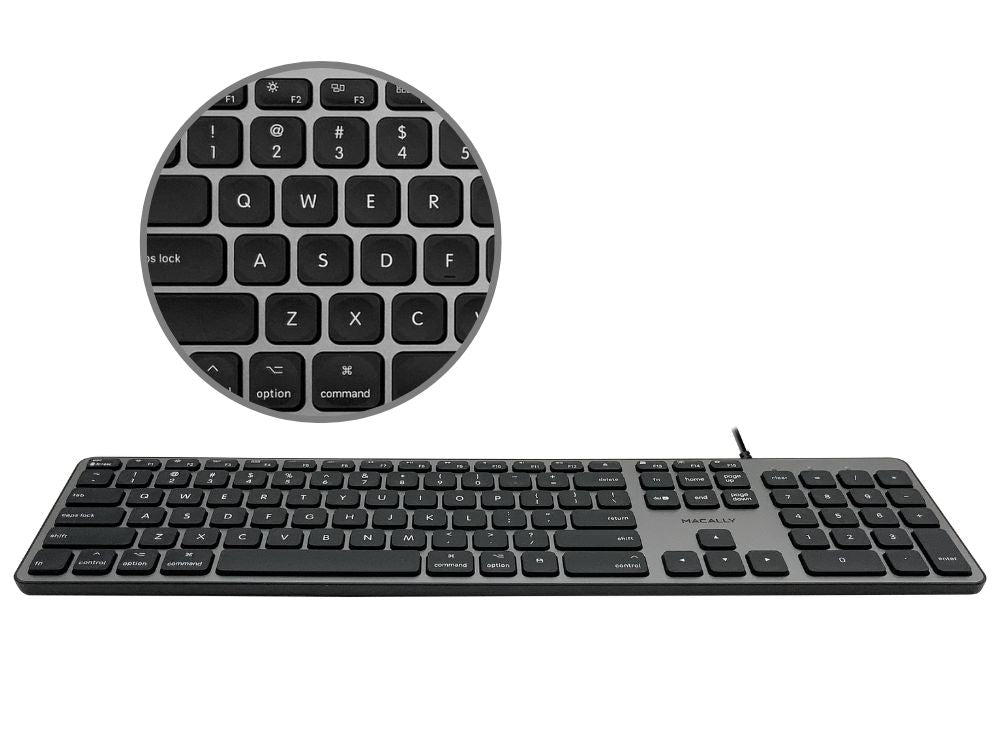 Built Specifically for Mac
Equipped with a 107-key apple layout and 16 MacOS shortcut keys, typing on your macbook or imac with our mac compatible keyboard will feel familiar.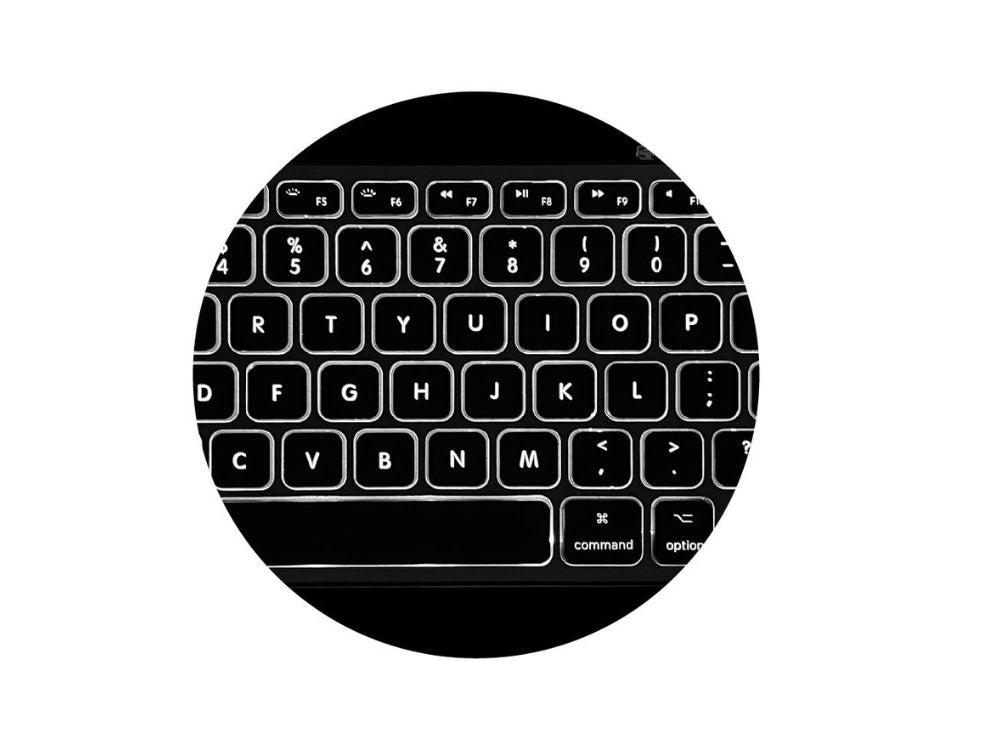 Backlit for Any Situation
Whether you're working in the dark or simply enjoy how lit up LED keys look, our backlit usb keyboard has crisp white backlit keys and 3 brightness levels.
Frequently Asked Questions
SYSTEM REQUIREMENT
SPECS

• Dimensions: 16.8" x 4.6" x 0.86"

• Weight: 953g

• Connectivity: 5FT USB-A Cable

• Compatibility: Mac

• 107 Key MacOS Layout

• 16 Apple Shortcut Keys

• Quiet/Thin Scissor Switches

• Adjustable White Backlighting (3 Brightness Levels)

• Green LED Indicators

• Space Gray Finish

• Ultra Slim Design
FREQUENTLY ASKED QUESTIONS

It compatible with OS Monterey?
I am using this keyboard with a Mac mini/Apple M1 running macOS Monterey with an LG 24 inch UltraFine Display and it is compatible and works well with this set up. The keyboard is plugged into a USB 3.0 Hub, RSHTECH 7 Port Powered USB Hub Expander. The keyboard has a nice feel when typing, is full sized plus looks good. I also am using a Macally wired mouse plugged into the above mentioned hub. I'm not a fan of wireless keyboards or mice for my desktop computer. I am quite satisfied with the keyboard (and mouse for that matter). Hopes this answers your question

Is it spill resistant?

No

I know it says for mac but does anyone know if this works with windows os?
Works fine on Windows - the command key maps to the Windows key, no drivers required.
I have the keyboard on a USB KVM switcher and toggle it between my Mac and PC all the time

What are the keyboard dimensions? (NOT the package dimensions)
This information was found on the page, under the Macally description. Specs:
• Dimensions: 11.2" x 4.6" x 0.9"